Leading the world in unmanned systems centered on pipe benders! !
We have been manufacturing pipe benders (pipe bending machines) consistently for more than 60 years. It was the first manufacturer in Japan to produce a double-bending pipe bender, followed by an NC double-bend pipe bender that was the first to be sent to market. In addition, we have responded to user needs by quickly bringing IT technology into peripheral devices for pipe bending technology. We are constantly working on technological development ahead of the generation, and we have received wide support from the industrial world.
Currently, it is known as the only bender manufacturer with unique technology (patent, domestic, and overseas) and numerous achievements in "unmanned system" and "multi-process pipe bender" that incorporate multiple processing processes into the front and rear processes of pipe benders.
We have received high evaluations not only in Japan but also overseas, and we will continue to challenge technological development with the motto of being a company that contributes widely to society with an eye to users and the future by accumulating know-how cultivated from many years of experience.
Representative Director Hiroshi Hasegawa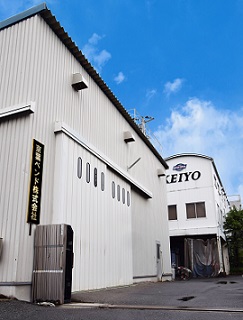 Head office factory
〒272-0032 4-7-12 Osu, Ichikawa City, Chiba Prefecture
TEL:+81-47-377-1521 FAX: +81-47-377-1522
E-mail:kbk@keiyo-bend.co.jp
Nagoya Office
〒444-0802 104, Nikken Office Building, 7-1
Gotanda, Miaicho, Okazaki City, Aichi Prefecture TEL:+81-564-64-7993 FAX: +81-564-64-7994
North American Sales Office
Detroit: KEIYO. U.S.A.Co.
TEL:+1-248-765-1517
Korea Agency
Seoul: Seir company
TEL:+82-31-713-8098
Foundation
1950
Representative Director
Hiroshi Hasegawa
Trading bank
Mizuho Bank, Chiba Bank, Keiyo Bank, Bank of Tokyo-Mitsubishi UFJ, and others
Business Description
Development, manufacture and sale of CNC pipe benders/ CNC wire benders/ various dedicated machines and CNC straightening machines
Major business partners

■

Automotive Industry
Automotive Industry [Japan]
[U.S.A.]BIG3 Series [Korea] Hyundai, GM Korea KIA


■

Construction Machinery Industry
Hitachi Construction Machinery Series, Kubota Series, Furukawa Series others


■

Furniture
Industry Okamura, Itoki


■

Other
(1) Building materials industry, agricultural machinery industry, miscellaneous goods industry, display industry, universities, etc.
(2) Major companies in more than 20 countries around the world such as North America, Latin America, South America, Asia in general, European countries, etc.
Acquisition permit number
Tobi / Earthwork Business Approved by the Governor of Chiba Prefecture (General-1) No. 53615
1950
Established in Sumida-ku, Tokyo for the purpose of designing and selling pipe bending machines and other machinery,
mainly as a private company Yamazaki Manufacturing Co., Ltd.
1953
Changed the name to Chiyoda Manufacturing Co., Ltd. due to organizational changes in line with the development of the company.
1960
Added pipe bending processing division in Ichikawa City, Chiba Prefecture in conjunction with business expansion,
named Keiyo Bend Steel Pipe Co., Ltd.
1963
Chiyoda Manufacturing Co.,
Ltd. merged with Keiyo Bend Steel Pipe and relocated to the Ichikawa Plant of the Head Office.
1974
Develop transfer benders
1978
Both bending CNC benders develop MAC type (MAC-400PS-V)
Opened Nagoya Sales Office.
1981
CNC bender completes MAC series with KBC series
1987
Partnered with JIT AUTOMATION as a sales base in North America
Merged with JIT and established KTTI
(JIT KEIYO) as a service company in Chicago, Canada
1989
Developed a double-bending CNC wire bender machine
1990
Developed CNC wire bender machine with straight line machine
1994
Changed the company name of Keiyo Bend Steel Pipe Co., Ltd. to Keiyo Bend Co., Ltd.
1998
Developed left and right bending CNC wire bender machine EWC-DW type (EWC-DW07)
2002
In Detroit as a North American service base, [KEIYO U.S.A. CO.] Established
Developed CPC type (CPC-DW13) left and right bending CNC pipe bender machine for coil materials
2005
Development of double bending wire bender MWC-E08
2012
CNC30 type left and right bending bender certified as Chiba monozukuri products
Development of NC rotary linear machine
2013
CNC30 type left and right bending bender Kanto branch technical award at The Japan Society of Mechanical Engineers
BNC-30F series (including all servos) developed
2014
Awarded the Ichikawa City Creative Technology Promotion Award
2019
CNC-All AC Servo Vendor Awarded for Glittering Industrial Technology in Nine Prefectures at the 76th Nine Prefectures City Summit
Obtained permission for general construction industry jumping and earthwork business
---